Secretive Window Face Peel & Seal (Envelopes)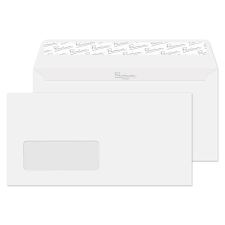 A stationery must!

Our Window Face Secretive Envelopes are perfect for clearly displaying the receiver's address.

Our DL, DLX & C5 envelopes are printed 80gsm & our C4 envelopes are printed on 100gsm for extra durability where you need it.
With a peel and seal finish we can ensure the safety of your tongue, best of all our envelopes are available in black & white or full colour print!

Please check our templates below for window size & placement as they differ slightly per size.

Sale Includes:
Offer includes 20% off DL, DLX, C5 & C4 window & Plain face Envelopes.
Up to 1000 QTY & 1 Version. Extras not included.
Offer Expires 28th September, 2019.
Use Code: SEAL0819.
Size
Quantity
Price
DL (110x220mm)
50
--.--
100
--.--
250
--.--
500
--.--
1000
--.--
2500
--.--
5000
--.--
10000
--.--
View More
Size
Quantity
Price
DL (110x220mm)
50
--.--
100
--.--
250
--.--
500
--.--
1000
--.--
2500
--.--
5000
--.--
10000
--.--
View More